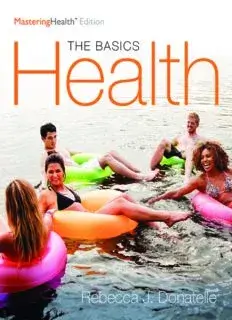 Health: The Basics by Rebecca Donatelle PDF
Health: The Basics (12th Edition) by Rebecca J. Donatelle – PDF
This edition includes the same content as the traditional text in a convenient version with three holes and a free sheet. A la carte books also offer great value – this format costs significantly less than a new textbook. Before purchasing, consult your instructor or review the course syllabus to make sure you have chosen the correct ISBN. There are several versions of Pearson's MyLab & Mastering products for each title, including custom versions for individual schools, and registrations are non-transferable. You may also need the CourseID provided by your instructor to register and use Pearson's MyLab & Mastering products.
For personal health courses.
Providing interactivity to students' fingers
Health: The Basics, MasteringHealth focuses on health coverage on real-world topics that have the greatest impact on student's lives, keeping students attracted to learning and living well. Along with dynamic new interactive content and media, this book retains its currency features, accessibility, cutting-edge research, focus on behavior change, attractive design, imaginative art, and unique mini-chapters.
The twelfth edition addresses the diverse needs and learning styles of students, closely intertwining online assigned activities in the story in the text. Each chapter includes Learning Outcomes and a new curriculum that links directly to MasteringHealth's activities. Self-assessments and reading tests help instructors engage students with the material.
Also available with MasteringHealth ™
MasteringHealth is an online homework, tutorial, and assessment program designed to work with this text to engage students and improve outcomes. Interactive, self-paced lessons provide one-on-one training to help students stay on track. With a wide range of activities available, students can actively learn, understand and retain even the most difficult concepts.
Description of Health: The Basics by Rebecca Donatelle PDF Book
health-the-basics-by-rebecca-donatelle